CHANCE
09 November 2015


Photo credit: Carter Hunt
Researchers Collaborate on Sustainability Initiatives in Costa Rica
Carter Hunt, assistant professor of recreation, park and tourism management at Penn State, working with researchers at Stanford University, studies the factors associated with delayed development in certain regions of Costa Rica in order to identify solutions for local residents who face poverty, wealth disparity and environmental degradation. Results of their recent work were published in the fall 2015 issue of "Human Organization" by the Society for Applied Anthropology.
Read Penn State News article »
15 October 2015

Hundreds of New Species Discovered in the Fragile Eastern Himalayan Region
A sneezing monkey, a walking fish and a jewel-like snake are just some of a biological treasure trove of over 200 new species discovered in the Eastern Himalayas in recent years, according to a new report by WWF. The report, Hidden Himalayas: Asia's Wonderland released on World Habitat Day maps out scores of new species found by scientists from various organizations including 133 plants, 39 invertebrates, 26 fish, 10 amphibians, one reptile, one bird and one mammal.
Read WWF article and report »
Almost a third of all Natural World Heritage Sites Under Threat of Oil, Gas and mining Exploration
Natural World Heritage Sites (WHS) are places of outstanding natural value, such as the Grand Canyon, the Great Barrier Reef, and the Selous Game Reserve in Tanzania. A new assessment - in a report called Safeguarding Outstanding Natural Value, produced by WWF, Aviva Investors and Investec Asset Management, puts the global risk of WHS at higher level than previously thought. The report also brings to light the risk to investors of involvement with extractives companies working, or intending to work, in or near these special places.
Read WWF article and report »
11 September 2015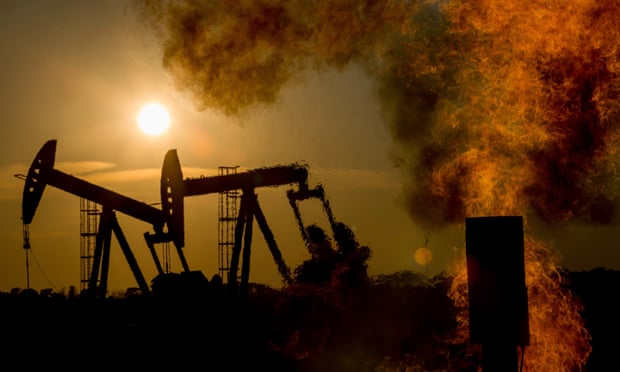 Photograph: Les Stone/Corbis
Gasland: HBO Documentary Key Driver of Opposition to Fracking
An Oscar-nominated HBO documentary that showed American homeowners near hydraulic fracturing sites setting fire to their tap water may have been the main trigger for a surge in public opposition to the oil and gas production technique, according to a study to be published next month.
Read article »
Field Courses
CHANCE Costa Rica/Panama 2015 Field Course
A Penn State University and Organization for Tropical Studies (OTS)/La Selva collaboration. The focus of this program, Conservation Biology and Sustainability of Select Tropical Ecosystems, which includes spring, 2015 online and summer, 2015 field course components, is to explore rainforest, coral reefs, sea grasses, and mangrove root ecosystems. The word explore is all encompassing here as it not only means to physically experience theses ecosystems with all the human senses open, but to question the phenomena that are affecting the maintenance, loss, and restoration of the biological diversity within these fragile environments through research. A highlight of the field course will be working with nesting sea turtles and hatchlings to ensure the recovery and sustainable management of depleted sea turtle populations worldwide. Field course is completed!
Visit field course website to see a photo album from the trip.
CHANCE China 2015 Field Course
A Penn State University, Jiangnan University (Wuxi, China), and Nanjing University (Nanjing, China) collaboration. The focus of this program is on China's fresh water supply and efforts needed to restore and conserve it. Twenty-four undergraduate students (8 from each university) will be selected from all three institutions to participate in a 17-day journey to study the Yangtze River watershed, which consists of the longest river in Asia and the third-largest in the world. Locations to be explored include: Shanghai; YiChang, Hubei Province; Wuxi, Suzhou and Nanjing, Jiangsu Province; and, Beijing. Field research will analyze efforts to reverse the pollution and resulting eutrophication of Lake Tai, China's third largest lake, as a result of the rapid economic growth in the surrounding cities of Wuxi and Suzhou. Also, all involved students and faculty will investigate the impact of urban development on the tributaries of the Yangzte in the Nanjing area. Highlights for this program include an international student-run panel discussion in Beijing on the sustainability of China's fresh water supply, and participation in a restoration project in the Yangtze watershed with members of Green Oasis, an NGO based in Shanghai.
Field course is completed!
Visit the field course website
CHANCE Recognition
CHANCE would like to recognize one of its partners, ATAS International Inc., for its support and commitment to the environment.

ATAS International, Inc. is a family-owned business with three generations adding their talents to the mix. ATAS was founded in 1963 by Jacobus P. Bus, an immigrant from the Netherlands. Back then, ATAS was a siding and trim company operating out of Jack's basement. Today, ATAS has manufacturing facilities for metal roofing, wall panels and accessories in three states; over 100 employees; and, a sister company in the metal coating industry.
ATAS looks after the environment by producing less waste, optimizing materials, using energy-efficient equipment and manufacturing sustainable construction products. Its efforts include reusing cardboard boxes for shipments, donating extra product to worthy causes and finding alternative uses for metal that would otherwise be considered scrap. Of course, all unusable metal is recycled. Skids and fiber cores from coils are re-purposed; and scrap wood is donated to the community. Motion sensors and improved lighting have been incorporated into the plants to make the buildings brighter and more energy efficient. In the office, some brochures are printed on FSC-certified Paper. Styrofoam products are not allowed and everything that can be recycled is. ATAS also believes in avoiding printing and wasting paper. It does this by maintaining a quality website (www.atas.com) where customers can access all technical and product information. As a manufacturer of sustainable items—a transpired solar air heating system called InSpire and a building integrated photovoltaic roof called ATA-Solar—ATAS is proud to extend its green consciousness to all levels of operation.

An extension of ATAS direct manufacturing environmental efforts is to support CHANCE. ATAS does this by donating funds so Pennsylvania teachers and Penn State students can partake in CHANCE embedded programs to receive hands-on environmental education in areas around the world where ecosystems are broken. ATAS believes in CHANCE's overall mission that today, more than ever, our educational system needs to create learning environments that allow students to engage in real-world issues that allow them to analyze, create, and implement solutions to face the challenges of our time such as energy, air, food, water quality, and climate change.
ATAS and the Bus family are fortunate to have employees who work together to create a positive work environment, lead business in the area of metal construction, and exemplify environmental stewardship.
Featured Video
Other CHANCE featured videos »
CHANCE FELLOWS
21 August 2015

Taking the Next Step in Research and Conservation
Angela Spagnoli, CHANCE 2015 Costa Rica and Panama Fellow, has continued her conservation work with the Blair County Conservation District to monitor the surface water quality of three headwater streams of the Chesapeake Bay. She is working to pinpoint input areas of concern which are adding to the already damaging nutrient levels in the Chesapeake watershed. Additionally, Angela has started an undergraduate research project under the supervision of Dr. Svetlana Bashkova, Assistant Professor of Chemistry, Penn State Altoona, to analyze the use of cashew nutshells, an agricultural waste product from an African cashew company, as a potential activated carbon source to be used as an adsorbent to remove toxic dyes and heavy metals from industrial wastewater streams. Angela will also be presenting a poster, Crossing the Borders of Costa Rica and Panama in the Name of Conservation, at the 3rd Annual Western Pennsylvania Conservation Conference (WPACC) on November 7th, 2015, at Clarion University of Pennsylvania. She is CHANCE inspiration and role-model conservationist!
Resources For Educators
09 November 2015

Applications for Albert Einstein Distinguished Fellowship
Applications are now being accepted for the Albert Einstein Distinguished Educator Fellowship (AEF) Program. The program provides a unique opportunity for accomplished K-12 STEM educators to serve 11 months in a Federal agency or U.S. Congressional office. Einstein Fellows bring their extensive classroom knowledge and experience to their host offices to inform Federal STEM education efforts. Program applications are due Nov. 19, 2015, at 8 p.m. EST and must be submitted through an online application system.
Additional information »
27 October 2015


Proposals for Symposia, Workshops & Short Courses
The 3rd North America Congress for Conservation Biology (NACCB) in affiliation with the Society for Conservation Biology(SCB), North American section will take place July 17-20 at the University of Wisconsin-Madison and will highlight advancements in many conservation disciplines, from the biological to social sciences. NACCB will especially focus on the theme of developing skills and solutions for effective science communication. These skills can play an important role in advancing science and stimulating conservation action through effective dialogue and engagement. They can help us communicate across boundaries to involve diverse communities working to sustain the Earth's biological and cultural diversity, and to implement the policy changes that make this possible.
Learn more about the criteria for selection & submit your proposals »
Resources For Students
15 October 2015

Solving Problems that Matter (and Getting Paid for It): New Book Release!
Written by Khanjan Mehta, Director, Humanitarian Engineering and Social Entrepreneurship (HESE) Program at Penn State University
Now On Amazon!
Solving Problems that Matter (and Getting Paid for It) brings together a mosaic of perspectives, experiences, and actionable insights to illuminate the smorgasbord of STEM career pathways in social innovation and global sustainable development.The book includes 54 expert briefs penned by leaders from USAID, Peace Corps, MIT, Engineers Without Borders, AAAS and other organizations. In addition, 100 STEM innovators from the World Bank, UNICEF, White House, Gates Foundation, Google and dozens of social ventures, government agencies, nonprofits, academia and corporations share their enlightening and inspiring profiles, including their current roles and responsibilities, career trajectories and lessons learned along the way. A great guide to help foster yourcuriosity into many STEM careers!
15 October 2015

Master's Degree in Conservation Leadership Opportunity
The Conservation Leadership through Learning Program (CLTL) at Colorado State University is a master's degree opportunity which prepares leaders to address complex conservation issues at local, regional, and global scales.The program is built around principles of experiential learning, inter-disciplinary instruction, and applied approaches. Working closely with a network of practitioners and organizations, CLTL is the option for individuals seeking to make a difference in the lives and ecosystems of our planet.
Following coursework, students complete a capstone project in which they apply skills and knowledge from their coursework to a conservation issue in collaboration with a local organization. While working at a site for at least four months students learn to be adaptive, as they work cross-culturally, and experience the rewards and challenges of conservation work.
Discover more »