CHANCE Newswire
18 October 2016


Photo credit: National Oceanic and Atmospheric Administration OKEANOS Explorer Program, 2013 Northeast US Canyons Expedition.
United Nations Seeks to Protect High-Seas Biodiversity
The high seas are critical to life on Earth. They constitute over 50 percent of the planet's area and over 90 percent of the habitable volume, with depths of 200 meters or more. Researchers continue to discover amazing life forms in the deep sea. But this rich biota faces a host of threats, from climate-change-related ocean acidification to pollution, deep-water trawling, and overfishing. Recently, scientists added to the list declining oxygen levels. Researchers are hopeful that ongoing discussions aimed at adding a supplemental "biodiversity" treaty to the 1982 United Nations (UN) Convention on the Law of the Sea may provide an opening for protecting species and habitats in this critical area.
Read BioScience article »
07 October 2016
Global Warming Milestone as Scientists Warn Earth has Passes Carbon Tipping Point 'for good'
Climate scientists now warn that it's 'almost impossible' that carbon dioxide levels will fall below 400 ppm next month, and likely won't dip below this point in the foreseeable future.
Read full story »
29 September 2016


August Marks Ongoing Trend of Record-breaking Heat for the Globe
Put away your party hats: August marks a not-so-sweet 16 months of record warmth for the globe, the longest such streak in 137 years.
Read NOAA news »
09 September 2016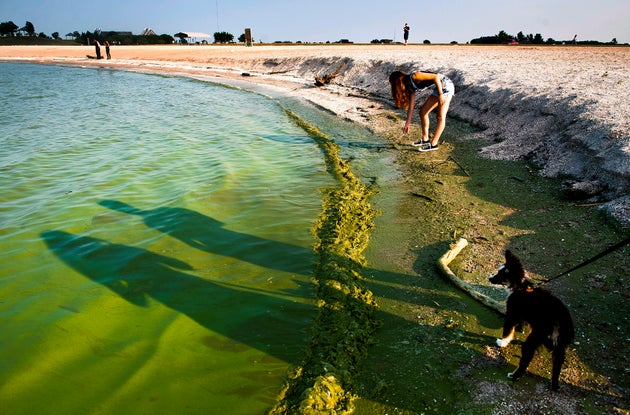 Photo Credit: TY WRIGHT FOR THE WASHINGTON POST VIA GETTY IMAGES
20 States Suffer From Toxic Algae, And We're Doing Little To Stop It
Thick, massive cakes of smelly green toxic algae bubbled up along beaches and rivers in South Florida's coastal communities this summer. It was so serious, authorities declared a state of emergency.
Read Huffington Post article »
Field Courses

Australia 2017 Field Course

Summer 2017
Cuba 2018 Field Course

New dates to be announced
Due to the changing nature of travel conditions, and in an effort to visit the sea turtle rookeries during their active period in Cuba, we have made the hard decision to postpone this new program until 2018.
This CHANCE field program, Cuba - Environmental Protection, Resource Management and the Sustainability of a Developing Nation, is an immersive research and conservation journey in western Cuba. It is a collaboration between The Pennsylvania State University, Cuba Marine Research & Conservation Program - a project of the Ocean Foundation, and Center for Marine Research (CIM) of the University of Havana, and is comprised of an online education and an international field course. Participants will evaluate the biodiversity of both terrestrial and marine protected habitats, the exploitation of environmental resources, and the policies and practices needed to enhance both Cuba's current and future needs to sustain its natural ecosystems. The conservation efforts for this session include working in a sea turtle rookery and removal of invasive species.
Meet Our Newest Sponsor
CHANCE would like to recognize its newest sponsor, O2 emc, a company focused on developing and owning large scale ground-mounted solar power plants in the Southeast United States. Each solar project is developed to maximize profitability for investors, work opportunities for local contractors, as well as training and educational opportunities for local residents.
O2 emc has developed more than 80 Megawatts of solar farms in North Carolina which generate more power than almost 12,000 average US homes consume, offsetting harmful emissions that would have been produced if the same amount of power were generated by burning fossil fuels. In total, O2 emc has developed more than $250 million in investment. http://www.o2emc.com/about-o2-emc
O2 emc leverages an in-depth understanding of state energy policy, existing energy infrastructure, and project ownership and tax structuring, combined with relationships with utilities to develop successful and profitable turnkey solar power plants.
CHANCE thanks O2 emc for its recent donation to our Trees and Turtles Conservation fund. Their donation will support our reforestation and turtle rookery efforts in Costa Rica this summer.
Follow CHANCE on Facebook to see the conservation efforts in action this July 3-17.
Donate »
Featured Video
CHANCE in China

Students from Penn State University, Jiangnan University and Nanjing University spent 17 days in China in July 2015 exploring the Yangtze River watershed and helping each other to become conservationists.
Other CHANCE featured videos »
CHANCE Fellows
24 August 2016

Dorothy Mwambazi, CHANCE 2014 Fellow, graduated with a bachelors degree in environmental engineering from Jiangnan University, Wuxi, China. She has just been accepted into a Young Expert Program (Agrofood) carried out jointly by the Ministry of Foreign Affairs Netherlands, Netherlands Water Partnership (NWP), and the Food & Business Knowledge Platform. She will be employed under the World Wide Fund (WWF) for Nature Zambia. Her work will involve, but not be limited to, providing expert knowledge in conservation agriculture, supporting climate smart technologies in marginal areas, demonstrating the environmental and social impact of WWF Zambia's climate smart agriculture initiatives, as well as serving as a liaise officer between WWF Zambia Conservation Agriculture team and local experts. You are bettering the world, Dorothy!!!
Resources For Educators
18 October 2016


Teacher Award Applications Now Being Accepted
Apply now for the Presidential Innovation Award for Environmental Educators, which recognizes outstanding K-12 teachers who employ innovative approaches to environmental education and use the environment as a context for learning. Award winners receive up to $2,500 to continue their professional development in environmental education. Additionally, the teacher's local education agency will receive up to $2,500 to fund environmental educational activities and programs. Applications are due March 1, 2017.
Learn about the creative work of previous award winners »
29 September 2016


New EPA Climate Education Resources
Do you know what climate change means for your state? Are you trying to help your students understand what climate change will mean for their communities? Explore new factsheets on how climate change will impact each of the 50 states, Guam and Puerto Rico!
Do your students know how climate change can impact the health of people around us? Explore the connection between climate change and human health with factsheets and a quiz.
Find these EPA climate education resources »
Need more? Promote climate literacy with education resources from the National Oceanic and Atmospheric Administration. Delve into the carbon cycle, climate monitoring, climate change impacts, and seasonal change with free lesson plans, videos, and activities.
Find NOAA climate education resources »
14 September 2016
World of 7 Billion Video Contest

Back by popular demand, the World of 7 Billion student video contest can help you bring technology and creativity into your high school and middle school classes. The contest challenges students to create a short (60 seconds or less) video illustrating the connection between world population growth and one of three global challenges: climate change, ocean health, or rapid urbanization. Students can win up to $1,000 and their teachers will receive free curriculum resources. The contest deadline is February 23, 2017.
*All videos must include a) how population growth impacts the issue, and b) at least one idea for a sustainable solution.
Resources For Students
18 October 2016


Attention College Students: Present Your Climate Justice Projects.
Young people are the next generation of climate justice leaders - and the federal government is honored to offer opportunities for students to expand their knowledge about the environment and to hone their leadership skills. If you are studying climate change, you may be interested in the "Educate, Motivate, Innovate" workshop, which will be hosted at the 2nd annual National Environmental Justice Conference and Training Program from March 8-10, 2017, in Washington, D.C. Abstracts are due November 14, 2016.
The workshop will provide a forum for selected students to share their work addressing the impacts of climate change on communities with environmental justice concerns.
Explore how students and teachers can participate in the workshop »
18 October 2016


Join the New Youth in Action Blog Series
Young people have been critical to the progress of the environmental justice movement. To recognize these youth, EPA's Office of Environmental Justice is launching the new "Youth in Action Series" to highlight the contributions of our emerging environmental and climate justice leaders. Follow along each week on the EPA's Environmental Justice in Action blog. This is a great opportunity to share your story and the work that you have been doing!
If you are interested in participating in the series, then please contact Simone Walter (walter.simone@epa.gov).
29 September 2016
Campus RainWorks Challenge: Register Now

EPA is calling for entries in the annual Campus Rainworks Challenge, a green infrastructure design competition for undergraduate and graduate students. Using their campuses as labs, teams develop green infrastructure systems to reduce stormwater pollution and build resilience to climate change. The first place team in each design category will receive a student prize of $2,000 to be divided evenly among the team and a faculty prize of $3,000.
Registration closes September 30, 2016. Entries must be completed and submitted by December 16, 2016.
Register Now! »